2015 WWATS Rendezvous
Two Day Open Hunt
May 22nd – 24th 2015
(Memorial Day Weekend)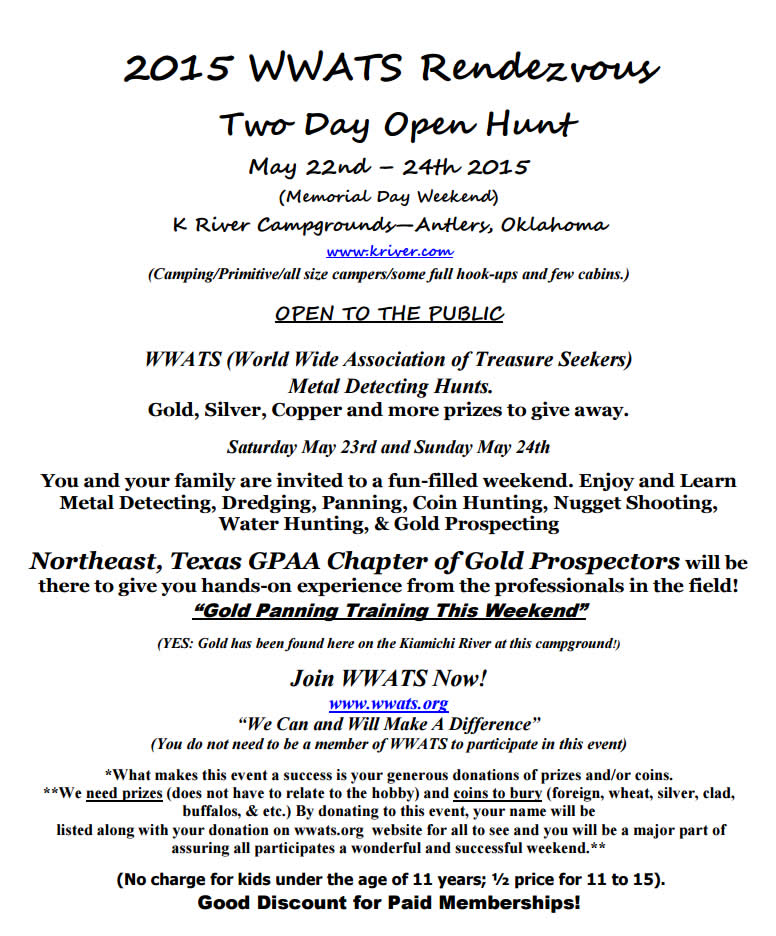 K River Campgrounds—Antlers, Oklahoma
www.kriver.com
(Camping/Primitive/all size campers/some full hook-ups and few cabins.)
OPEN TO THE PUBLIC
WWATS (World Wide Association of Treasure Seekers)
Metal Detecting Hunts.
Gold, Silver, Copper and more prizes to give away.
Saturday May 23rd and Sunday May 24th
You and your family are invited to a fun-filled weekend. Enjoy and Learn
Metal Detecting, Dredging, Panning, Coin Hunting, Nugget Shooting,
Water Hunting, & Gold Prospecting
Northeast, Texas GPAA Chapter of Gold Prospectors will be
there to give you hands-on experience from the professionals in the field!
"Gold Panning Training This Weekend"
(YES: Gold has been found here on the Kiamichi River at this campground!)
Join WWATS Now!
www.wwats.org
"We Can and Will Make A Difference"
(You do not need to be a member of WWATS to participate in this event)
*What makes this event a success is your generous donations of prizes and/or coins.
**We need prizes (does not have to relate to the hobby) and coins to bury (foreign, wheat, silver, clad,
buffalos, & etc.) By donating to this event, your name will be
listed along with your donation on wwats.org website for all to see and you will be a major part of
assuring all participates a wonderful and successful weekend.**
(No charge for kids under the age of 11 years; ½ price for 11 to 15).
Good Discount for Paid Memberships!
"WWATS focus is to keep our public lands open for recreational use for all Americans to
enjoy."
Please attend our Hunts and see what you can do to help!
Directions
Go north of Antlers on Hwy 2. You will pass through Moyers which has Brittingham Grocery Store on the right and a post office across the
highway. One more mile you will cross Buck Creek and at the top of the hill see our sign. Turn right into campground. Proceed on down to the
camping area to office, then go register at WWATS booth to left after the office, someone will normally be there to greet you.
Hunt Events for WWATS Weekend
Saturday May 23
rd
The day will start at 9:00 AM and will be at my cabin about info on WWATS and benefits for members; different types of
memberships involving different hobbies & INSTRUCTION on Weekend Hunts. At 10.00 AM will start the "Four Hour
Copper Hunt". This hunt will be hidden tokens for some copper rounds, bars,5 oz rounds,1 lb bars & 2 lb bars. Type
copper coins also buried. Proceeds go to PLP in late Jerry Hobbs name!
( At 2:30 PM token or tokens will be turned in for Prizes. )
— 7:30 PM Dark 30……. FREE Night Hunt—no lights allowed (tokens for prizes).–
Sunday May 24th
ALL DAY Hunt starts at 8:30 AM and ENDS AT 3:00 PM. At 3:30 PM prizes will be award for tokens dug that day.
Any tokens not found will be draw for at the end of prizes awarded! Most all
Prizes will be silver, gold and type coins.
LIMIT TO THIS HUNT—120 ENTRIES ONLY!—HURRY AND SIGN UP TODAY!